GDP and Jobless Claims
We had two more important economic reports this morning. The government said that real GDP grew at a 6.5% annualized rate during the second quarter. That's a big number but it was still below expectations of 8.5%. This is the initial report. It will be updated two more times.
Gross private domestic investment fell 3.5% as declines in private inventory and residential investment held back gains. Rising imports and a 5% decline in the rate of federal government spending, despite the ballooning budget deficit, also were factors, the Bureau of Economic Analysis report said.

The overall increase came thanks to increasing personal expenditures, which rose 11.8% as consumers accounted for 69% of all activity. Nonresidential fixed investment, exports and state and local government spending also helped boost output.
Over the last year, real GDP is up by 12.2% and nominal GDP is up by 16.7%. In real terms, the U.S. is finally larger than it was during Q4 of 2019. Here's real annualized GDP growth per capital by decade:
1950s: 2.53%
1960s: 3.06%
1970s: 2.19%
1980s: 2.14%
1990s: 2.10%
2000s: 0.83%
2010s: 1.58%
2020s: 0.13% (so far)
Here's the growth of real GDP. I'm not sure what letter, if any, that looks like: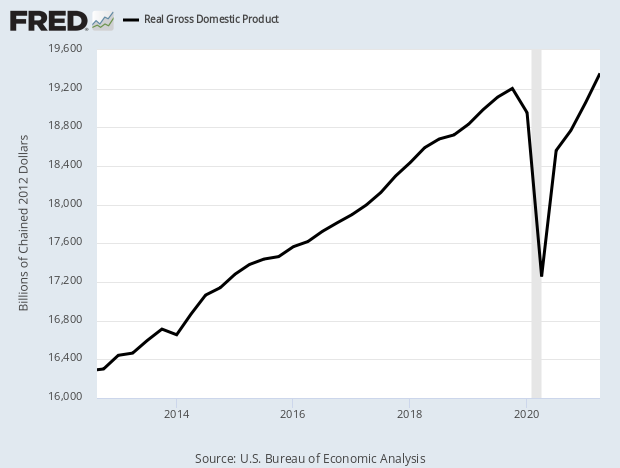 The other report was on jobless claims. That hit 400,000 on the nose. That's down from 424,000 for last week. We're still above the pandemic low of 368,000. We hit that level twice, two weeks ago and four weeks ago.
Continuing claims edged higher to 3.27 million, according to data that runs a week behind the headline number. The total of those receiving benefits rose by nearly 600,000 to 13.16 million, according to data through July 10.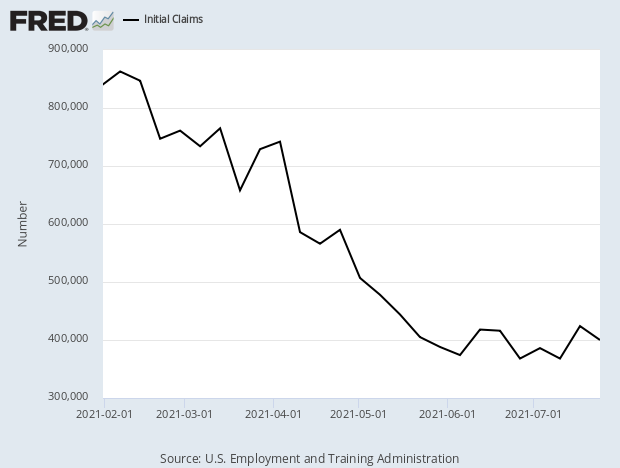 Posted by Eddy Elfenbein on July 29th, 2021 at 1:20 pm
The information in this blog post represents my own opinions and does not contain a recommendation for any particular security or investment. I or my affiliates may hold positions or other interests in securities mentioned in the Blog, please see my Disclaimer page for my full disclaimer.